Andrea: Queen of Mantas 11th Nov at 8pm BBC2
Posted on: November 11th, 2009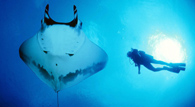 ANDREA: QUEEN OF MANTAS tracks PhD student Andrea Marshall over the course of a year as she dives the Indian Ocean unlocking secrets about the manta ray – a balletic cousin to the shark, with 'wings' which can span 7 metres (20 ft) wide.
Now, she's learned that top zoologists have confirmed her most ambition theory: mantas are not one species, but two – so making 30-year-old Andrea one of the youngest researchers yet to win the right to name a marine animal.
The film's director/producer, Mark Woodward, of Big Wave Productions, Sussex, says "The timing of the decision on the species couldn't be better.  It means that people who tune in to Natural World on Wednesday will not only be the first tv viewers in the world to meet Manta alfredi but will also get their introduction from the person who found the clues which led to the reclassification."
Other revelations in the film include:
* the first tv footage of around 150 mantas massing near the Maldives, the damage they suffer in shark attacks and their visits to 'beauty parlours' for body scrubs and facials
* television's first shots of one the largest but rarest sea creatures – the small-eyed stingray
* a breaking science experiment, using satellite to track a giant manta's travels
The results of the GPS experiment prove another of Andrea's theories – that giant mantas are ocean voyagers capable of crossing 700 miles of open water in 60 days.  
Mark Woodward explains: "That's a new record for an Indian Ocean animal but it comes as a price.  Increasingly, in coastal areas there's some protection for mantas, largely because of their immense tourism value.  They are so graceful and inquisitive there's has been a huge boom in people wanting to join in a ballet with what Andrea describes as 'this most beautiful underwater bird'.  
"But out at sea, giant mantas risk being captured and gutted for their fins by unregulated fishing, either to meet the new online demand for so-called traditional Chinese remedies, which claim manta parts are a cure or to become a recipe ingredient – sometimes, ironically, as a substitute for over-fished sharks."
To draw attention to the issues, an online campaign seeking better safeguards for sharks and mantas is being run by The Save Our Seas Foundation, a main sponsor of manta ray research in Mozambique and around the Maldives.  For more details: see: www.saveourseas.com
In addition, Andrea Marshall has set up a ray adoption and conservation sponsorship scheme.  For details, see: www.giantfish.org
ANDREA: QUEEN OF MANTAS is showing as part of the latest season of the BBC's longest running documentary series, NATURAL WORLD.  The series editor is Tim Martin, BBC Natural History Unit, Bristol.
ANDREA: QUEEN OF MANTAS 11th Nov at 8pm BBC2
Listen again to Andrea Marshall's interview on BBC Womans Hour, on http://www.bbc.co.uk/radio4/womanshour/listenagain/2009_45_wed.shtml
First film of 'giant' stingray – BBC NEWS – http://news.bbc.co.uk/earth/hi/earth_news/newsid_8347000/8347298.stm
Andrea Marshall: The marine ecologist discusses diving, underwater beauty parlours and the discovery of a new species – NEW SCIENTIST – http://www.newscientist.com/article/mg20427335.500-andrea-marshall-queen-of-manta-rays.html
Ghosts from the deep – METRO – http://www.metro.co.uk/news/article.html?Rare_footage_shows_ghosts_from_the_deep_sea&in_article_id=765840&in_page_id=34
Film crew dives into the incredible secret world of the giant manta ray – DAILY MAIL – http://www.dailymail.co.uk/sciencetech/article-1226616/Giant-manta-rays-captured-camera.html
WATCH ANDREA QUEEN OF MANTAS AT 8PM ON BBC2, WEDNESDAY 11TH NOVEMBER, watch again on BBCiPLAYER.