Big Wave's Nick Stringer Attends German Premier of Tortuga
Posted on: September 29th, 2009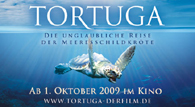 Tortuga was extremely well received with huge press interest at it's German Premier.  The film now opens in cinemas throughout Germany on the 3rd October and starts releasing around Europe.  The film shortly profiles at the Rome Film Festival on the 18th October.  More festivals soon to be announced.
Audiences in Germany will be the first to see the 80-minute HD film on general release, when Big Wave's re-creation of one loggerhead turtle's 25-year odyssey around the North Atlantic.  
The film's German release is being managed by Polyband and 20th Century Fox, using the same team who planned the hugely successful launch of Earth in Germany.   A 180 print release is proposed – an unusually high number for a documentary feature which augurs well for the film's future in Europe and other markets, including, we hope, the USA.  
The film is attracting major international feature film festivals, with invitations for Turtle to screen at the prestigious Toronto, Rome, Amazons and BFI London Festivals among the latest to arrive.  
Director, Nick Stringer, says: The response so far has been beyond all expectations.  At festivals where Turtle: The Incredible Journey has already been shown, it has captured the interest of very broad audiences.  As we set out to appeal to mainstream audiences, including families, it is exciting that the film is being selected by festivals with a wider remit than just wildlife.  Viewers of all ages a backgrounds are really liking the mix of beautiful visuals, marine revelations, adventure, suspense and sparks of humour, with a conservation edge.  
Turtle: The Incredible Journey is a European co-production by Big Wave and Film & Music Entertainment (F&ME), and supported by the Save Our Seas Foundation