FAU Sea Turtle Research Program Benefits from Turtle Film
Posted on: November 18th, 2010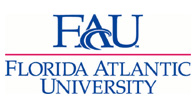 Florida Atlantic University's Charles E. Schmidt College of Science has hosted an exclusive screening of the film "Turtle: The Incredible Journey" on Tuesday, November 9, at the Crest Theatre in Old School Square in Delray Beach.  A cocktail reception was held at 6:30 p.m. followed by an 8 p.m. screening.
This film, yet to be released for distribution in the United States, was directed by Emmy Award Winner Nick Stringer.  Dr. Jeanette Wyneken, associate professor in FAU's department of biological sciences and co-director of the FAU Sea Turtle Research Program, served as the scientific advisor for the film.
Significant segments of the movie were shot at area beaches and coastal waters of Palm Beach County. Shot from the viewpoint of the turtle, the film traces the 25 year journey of a hatchling loggerhead turtle as it grows to maturity while following the migratory path of its ancestors thousands of miles across the Atlantic ocean.  She then returns to the beaches of South Florida as a mature female who nests close to where she began life as a hatchling many years ago.
The film blends breathtaking cinematographic artistry with scientific inquiry and research.  FAU graduate students and faculty, as well as Gumbo Limbo staff and volunteers, were pivotal behind the scenes in the production of this movie.  Several loggerhead turtles that had been part of the FAU Sea Turtle Research Program had starring roles.
Proceeds from this event, of about $15,000 will be used to purchase state of the art scientific equipment for the FAU Marine Science Lab, as well as to fund research internships that are critical to advance the FAU Sea Turtle Research Program.
Turtle: The Incredible Journey Production Page
Turtle: The Incredible Journey trailer
Turtle: The Incredible Journey awards
More about Turtle: The Incredible Journey
Facts about the turtles journey
Other facts about the marine environment
Miranda Richardson, the narrator of Turtle: The Incredible Journey
Directors Intentions by Nick Stringer
What it was like filming Turtle: The Incredible Journey