Filming Again!
Posted on: April 27th, 2010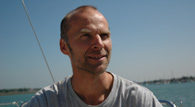 Nick Stringer is filming in Shark Bay, Western Australia for our Dolphin BBC Natural World / Animal Planet show. Nick is working with a small team of cameraman Ben Cunningham, Cassie de Colling and James Blake.
Mark Woodwood is heading to New Zealand to meet with Orca expert, Ingrid Visser and to finalize logistics for our Killer Whale show, which is due to start filming in August this year.