Jaws Comes Home Premieres Discovery Shark Week 24th Anniversary
Posted on: June 23rd, 2011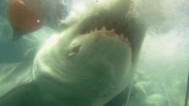 Great Whites are back in the very same waters JAWS was made.  It's the summer of 2010 and shark expert Greg Skomal and Harbour Master Stuart Smith are on high alert as a huge, 18 foot Great White is spotted off Chatham, MA. From breaking news revelations about their lives, to the first underwater images of an Atlantic Great White for over 30 years; this is a film of many firsts.
SHARK WEEK, cable television's longest-running programming event and the ultimate summertime ritual, returns to Discovery Channel Sunday, July 31 at 9PM with seven all-new specials and some of the most watched shows from recent years. Last year's SHARK WEEK was watched by 30.8 million people, m aking it the most-watched SHARK WEEK on record. Sunday 31st July.
Jaws Comes Home airs Sunday 31st June at 10:00pm EST.
http://press.discovery.com/us/dsc/press-releases/2011/discovery-channel-and-comedian-andy-samberg-j-1302/