Manta Film a Finalist!
Posted on: January 15th, 2010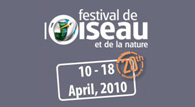 The 20th edition of the Bird and Nature Festival has received 160 entries from 27 countries. The preselection jury have chosen 32 films of which Andrea: Queen of Mantas was included! All the films will be shown in their French versions in the Abbeville Theatre during the festival on the 10th – 18th April 2010.
Fingers crossed for Mark Woodward and Andrea: Queen of Manta's!