Mantas Finalist at Missoula
Posted on: March 24th, 2010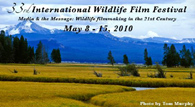 We are very pleased to announce that Andrea: Queen of Mantas has been passed on to Final Judging at the 33rd annual Missoula International Wildlife Film Festival in the Newcomer category. Judging takes place between the 22nd and 28th March.
In addition to being a Finalist, Andrea: Queen of Mantas received a Honourable Mention for Underwater Cinematography. While it was not chosen to pass forward to Final Judging in the Conservation Environmental category, the preliminary judges felt the Underwater Cinematography to be particularly strong and worthy of special attention.
This year¹s IWFF promises to be one of the most important ever ­ with a special focus on the International Illegal Wildlife Trade, Internet Programming, Distribution and Production Funding, among many other important issues.
Congratulations to director, Mark Wooward and the Andrea: Queen of Mantas team.