Mantas Wins 5 Awards!
Posted on: April 6th, 2010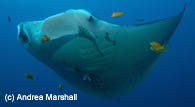 Andrea Queen of Mantas has been recognized with several awards by the Final Judging panel of the Missoula International Wildlife Film Festival. The awards are:
Merit Award for Animal Behavior
Merit Award for Conservation Hero, Andrea Marshall
Merit Award for Ecosystem
Merit Award for Scientific Content
Merit Award for Presenter
As it was a finalist, it will also be used for public screenings!
IWFF was the first and is now the longest running wildlife film festival in the world. Its mission is both to acknowledge and to celebrate excellence in the craft as well as to foster and promote awareness and understanding of wildlife, habitat, people and nature. 
This year's 33rd IWFF festival will have an unusually strong emphasis on wildlife conservation and education as well as new uses of and for media, distribution of media and funding of media. The theme this year, Media & the Message: Wildlife Filmmaking & Survival in the 21st Century that of course speaks directly to conservation efforts worldwide is the primary focus.  Festival dates are May 8-15 with the Awards Gala on Friday, May 14th. This year's festival promises to be one of the most important and dynamic ever.  
Visit the International Wildlife Film Festival website
Andrea: Queen of Mantas has also recieved a Special Distinction for Passion and Involvment at the Bird and Nature Festival, France.