Natural Worlds
Posted on: July 28th, 2007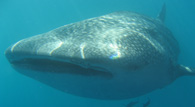 Following hard on the heels of 'Invasion of the Crocodiles' and 'Saved by Dolphins', we're delighted to announce filming is well underway for 'Whale Shark' with the talented director, Emma Ross.  
"The film follows 20 whalesharks on a year long migration" says Ross.   "We've already had a successful first shoot filming with Dr Mark Meekan in Ningaloo, Australia despite getting the first rainfall in the territory in 5 years .  Our next location is the Seychelles in September .  It's a remarkable and ambitious project and the big question is where will our tagged whale sharks turn up next?  Are they doing a global migration, or not?  We'll let you know the answer in a years time!"
And late news 'Invasion of the Crocodiles' has been selected for the BBC Natural World's SIX OF THE BEST DVD out in shops now.