Our Sea Forest
Narrated by Chris Packham
Aired on BBC1 for the 'Our Lives' strand, Our Sea Forest tells the moving story of how a once thriving kelp forest, home to a multitude of different sea creatures was lost, and its slow road to recovery.
Told through the eyes of Eric Smith, a 74-year-old free diver, this is a powerful story of hope. Eric has been diving in Sussex since he was 11 years old. He remembers a rich and vibrant ecosystem.
The Sussex Inshore Fisheries Conservation society, initiated a landmark ruling in 2021, consequently protecting over 300 sq. kilometres of seabed.
Filmed over three years, Our Sea Forest includes remarkable scenes as Eric dives with giant 40-pound sting rays, witness's mussel beds return, and rare seabream breeding on the seabed again.
Kelp beds are a vital marine ecosystem. Across the world they are in serious decline, undeniably making this a story of both local and international importance.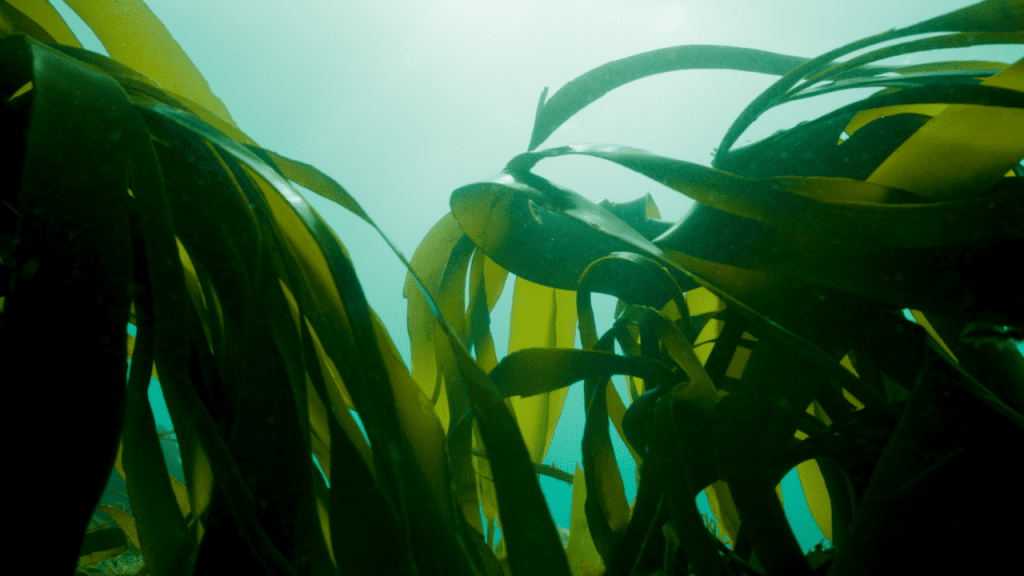 A Sneak Peak
In one of the scenes we see Eric's daughter Catrine firstly posting on their community facebook page, Sussex Underwater – GIVE THEM A FOLLOW. Secondly, she mobilises supporters to find cuttlefish eggs dislodged by a summer storm.
"We wanted to show people what was happening underwater, so it was no longer out of sight, out of mind." – Catrine
Then, Catrine meets with Dexter Broad, an expert who's been rescuing stranded cuttlefish eggs for many years.
"Where the kelp beds have disappeared, the cuttlefish no longer have nursery grounds to lay their eggs in, so they wash up on beaches" says Dexter. "Out of water the eggs would soon dry out and die, I just like to give them a chance". 
Warning: this is a specialist job as cuttlefish eggs need a specially aerated, seawater tank.
In another heartwarming scene, Eric shares his love of the sea with Catrine, who confesses to not being a natural water lover. She nervously joins her dad in 'his world.'
Remarkably, with hands held, they witness a beautiful mature female stingray, some 6ft long, gliding through the water off Bognor Regis. Sightings of these majestic rays have increased since the landmark ban.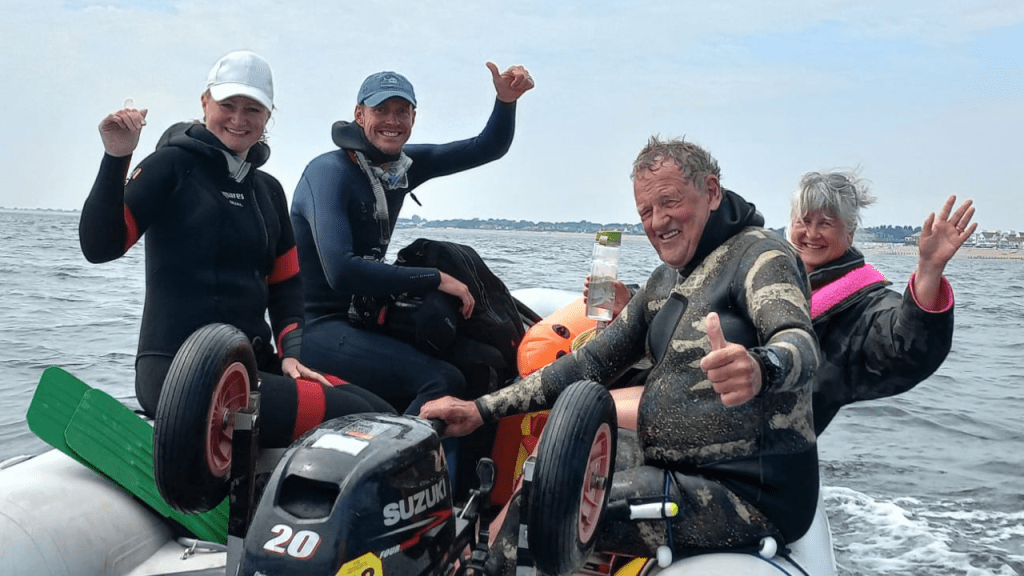 More about the Sussex kelp recovery
We support the work of the SUSSEX KELP RECOVERY PROJECT
Please check out their site and GIVE THEM A FOLLOW.
Made up of a team of leading UK scientists, NGO's, Sussex IFCA and local authorities including Adur and Worthing Council, The Sussex Kelp Recovery project believes the recovery needs to be monitored scientifically, that nature will run it course and that the kelp should restore naturally.
Our Sea Forest in the news
Publicity
one man's deeply emotional story about saving a kelp forest - The Guardian- Hollie Richardson
"Some people just make you feel better about the world, and Eric Smith, a 74-year-old free diver, is one of them… An inspiring tale." - The Sun
"Hopeful environmental stories are few and far between these days, which makes this short film – about the recovery of a Sussex kelp forest that had been destroyed by trawling – so special to watch… It's hard not to feel emotional…" - The Observer - Holly Richardson
"Sharp, climate-focussed documentary." - The Guardian - Ammmar Kalia
"Diver horror after destruction of sea bed' - The Mirror - Sarah Wallis
"Father & daughter on why this seabed worth saving" - The Independent - Yolanthe Fawehinmi
Behind the scenes with the production team - Broadcast - Sarah Cunliffe & Nathalie Grace
"… remarkable story…" - The Daily Telegraph - Veronica Lee
"This beautiful, heart-wrenching and truly hopeful film..." - Outrage & Optimism
Producer/ Director :

Sarah Cunliffe

Narrator:

Chris Packham

Editor:

Francesca Oldfield

Photography:

James Blake

Underwater Photography:

Paul Boniface

Underwater Photography:

Nathalie Grace

Additional Photography:

Martin Davies

Additional Photography:

Gail Jenkinson

Additional Photography:

Angus Peel

Additional Photography :

Toby Russell

Additional Photography:

Leo Scott-Batey

Additional Photography:

Eric Smith

Additional Photography:

Mark Sharman

Additional Photography:

Sim Warren

Head of Water Safety:

Andy Piers Morris

Water Safety Teams:

Neville Blake

Water Safety Teams:

Clive Mills

Water Safety Teams:

Sussex Underwater Free Divers

Thanks to:

Sean Ashworth

Thanks to:

Henri Brocklebank

Thanks to:

Sussex Inshore Fisheries & Conservation Authority

Graphics:

Tim Varlow

Music:

Ty Unwin

Music:

David Mitchum

Post Production Picture:

The Virtual Post

Colorist & On-Line Editor:

Philippa Beazley-Swanson

Post Production Sound:

Red Six Mix

Dubbing Mixer:

Andrew Wilson

Sound Editor:

Owen Peters

Production Manager:

Katrina Chaloner

Production Assistant:

Bobby Cross

Production Assistant:

Amanda Fairey

Production Assistant:

Natasha Maworera

Production Assistant:

Izzy Green

Edit Assistant:

Rhiannon Burton

Edit Assistant:

Katie Taylor

Head of Finance:

Kim Keys

Executive Producer :

Emma Ross

Executive Producer:

Mark Woodward

Commissioning Editor for BBC:

Diana Hare

: