SHARK BELOW ZERO
WITH GREG SKOMAL, HEATHER BOWLBY, MEGAN WINTON AND WARREN JOYCE
Why are Atlantic White sharks heading north? With a recent attack on a swimmer off the coast of Nova Scotia, and numerous sightings reported around Canada's frozen shores, shark scientists Greg Skomal, Heather Bowlby, Megan Winton and Warren Joyce join forces to investigate the great white shark in Canada.
It's a journey that takes them first from South Carolina, where many white sharks overwinter, then to Canada's frozen north to investigate Atlantic White Shark movements.
ATLANTIC WHITE SHARKS IN CANADA
Traditionally, White sharks have been seen as rare visitors to Canadian waters. Up until 2006, there had been just 32 recorded sightings. However in recent years, there have been more and more reports of white sharks heading north.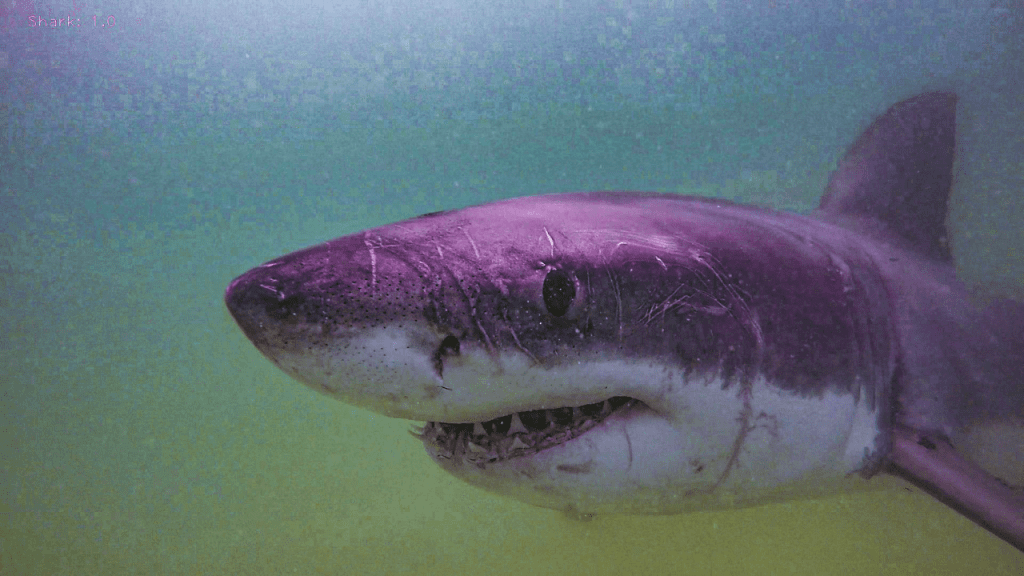 WHITE SHARKS – THE EXPERTS
GREG SKOMAL – Massachusetts Division of Marine Fisheries
Greg is the worlds expert on the movements of Atlantic White sharks. He is a senior fisheries scientist at Massachusetts Division of Marine Fisheries, and has spent the majority of his life researching the behaviour of sharks and how to relay that information into public safety.
MEGAN WINTON – ATLANTIC WHITE SHARK CONSERVANCY
Megan is a staff scientist at the Atlantic White Shark Conservancy. Megan's fifteen-year career has led to a Ph.D. at UMass Dartmouth's School for Marine Science & Technology.  She currently works in Cape Cod, studying, tracking, and ultimately, collecting invaluable data on the great white shark at AWSC.
HEATHER BOWLBY – FISHERIES & OCEANS CANADA, BEDFORD INSTITUTE
Over the last 15 years Heather's has focused her work on understanding changes in population dynamics for species of conservation concern. This collaboration with Greg Skomal and Megan Winton is both unique and exciting.
"We are building the foundation to describe the critical habitat for the great white shark in Canada" says Heather Bowlby from Canadian Atlantic Shark Research Laboratory, Bedford Institute of Oceanorgraphy.
WARREN JOYCE– FISHERIES OCEANS CANADA, BEDFORD INSTITUTE OF OCEANOGRAPHY
Warren works closely with Helen Bowlby at the Canadian Atlantic Shark Research Laboratory. He is chiefly an Aquatic Fisheries Technician based at Bedford Institute of Oceanography, Dartmouth.
WHY DID THE CANADIAN SHARK ATTACK HAPPEN?
"Firstly, although I can't say with a hundred percent certainty that this was an incident created by a white shark, I'm very confident that it was. Secondly, this is a lot of evidence. There's plenty of seals here in Canada and so the habitat is ideal for white sharks. Also, we've got an eyewitness account! They saw a dark fin, you know, as far as I'm concerned, this was a white shark attack. And because it made a bad decision, it's likely it was a juvenile shark, an inexperienced shark." Greg Skomal, Massachusetts Department of Marine Fisheries
UNIQUE SCIENCE- WHITE SHARKS AND THEIR EXPEDITION TO CANADA
In a unique 12 day expedition, the Canadian/ US white shark team spot their first shark off Wedgeport, Nova Scotia. Seen within hours, the shark is a juvenile 9 foot female, and new to the Atlantic White Shark database. Then, when the team reviewed the camera's, there was not one, but two sharks!
Days later, Megan and Warren check the receivers dotted along the Nova Scotia coastline and detect White Shark 9142. It's another 9-footer called Ashville, tagged in North Carolina. Amazingly, three more white sharks are also detected, and just as the expedition is coming to a close, the team get a camera tag on another 9-foot great white shark they nick-named, Quody. She's also new to the data base.
"We thought it was quite amazing how many sharks we saw up here in such a short time. This is the first glimpse of what white sharks up to in Canadian water. This year there were 78 individuals, which is the most we have seen in Canada since we started monitoring." Heather Bowlby
This is undeniable evidence that Canada is a great white shark hot spot, particularly for inexperienced, juvenile sharks. Significantly, it may explain why Canada witnessed its first shark bite in 150 years.
"These sharks are spreading out almost throughout Canadian waters. Basically, This is an ancient animal, it's been around for millions of years. It's a survivor because it can adapt and it will continue to adapt. Undoubtedly, we're going to keep seeing white sharks off Canada, and quite possibly we'll see more" says Greg Skomal
LOVE SHARKS?
More BigWave shows you might be interested in-
Publicity
Big Wave Heads North With Shark Below Zero - Realtv.com
Director/Producer:

MARK WOODWARD

Executive Producer:

SARAH CUNLIFFE

Narrator:

SEAN BOYCE JOHNSON

Editor:

JAMES WILSON

Music by:

FIGURE AND GROOVE

Graphics:

ROSIE MILES

Graphics:

MAPTILER

Scientific Consultant:

GREG SKOMAL

Scientific Consultant:

MEGAN WINTON

Scientific Consultant:

HEATHER BOWLBY

Scientific Consultant:

WARREN JOYCE

Scientific Consultant:

FREDERIC CYR

Scientific Consultant:

MICHAEL PIERSIAK

Head of Finance:

KIM KEYS

Production Manager:

CORINNE BATTERTON

Production Services Canada:

JIM EDWARD

Production Services Canada:

COPILOT PRODUCTIONS

Researcher:

ESME HEDLEY

Production Assistant:

HELEN SOULSBY

Location Director:

DEVON MASSYN

Director of Photography:

JOSEPH BRUNETTE

2nd Unit Photography :

TOM MUNDAY

2nd Unit Director:

DARRYL CZUCHRA

Drone Operator:

MARTIN LEMIRE

Post Production:

THE EDIT

Colorist and Online Editor:

JOSH CORDELL

Sound Post Production:

RED SIX MIX

Re-Recording Mixer:

ANDREW WILSON AMPS CAS

Sound Editor:

JAY WHITTAKER

Dialogue Editor:

MATT SNOWDEN AMPS

Special Thanks:

ATLANTIC WHITE SHARK CONSERVANCY

Special Thanks:

MASSACHUSETTS MARINE FISHERIES

Location Assistance by:

BEDFORD INSTITUTE OF OCEANOGRAPHY

Production Assistance by:

CHIP MICHALOVE

Production Assistance by:

DALE MITCHELL

Production Assistance by:

DRONE STUDIO INC

Production Assistance by:

JACQUARDS' RIDGE FISHERIES

Production Assistance by:

OUTCAST SPORT FISHING

Production Assistance by:

SCREEN NOVA SCOTIA

Production Assistance by:

STEVEN MOORES

Stock Footage:

ATLANTIC EDGE FILMS

Stock Footage:

ATLANTIC WHITE SHARK CONSERVANCY

Stock Footage:

BIOPIXEL

Stock Footage:

CAROL BROWNE

Stock Footage:

CHIP MICHALOVE

Stock Footage:

CTV NEWS STOX, BELL MEDIA INC

Stock Footage:

DUNCAN BRAKE

Stock Footage:

GETTY IMAGES

Stock Footage:

GLOBAL NEWS

Stock Footage:

JOHN KING

Stock Footage:

NATHAN JENSEN

Stock Footage:

NATIONAL GEOGRAPHIC

Stock Footage:

NATURE FOOTAGE

Stock Footage:

POND 5

For:

NATIONAL GEOGRAPHIC

Production Manager:

BRIAN SANTOS

Unit Manager:

MATTHEW COX

Unit Manager:

ZACHARY TREU

Research Manager:

MARK LEVENSTEIN

Associate Producer:

NELL GORDON

Business Affairs:

LISA MATHEW

Legal Affairs:

MICHELLE ROGERS

Executive Producer:

DREW JONES

Vice President, Production:

JUSTINE SCHMIDT

Director, Production Management:

ASHLEY LORENZO FELDMAN

Manager, Development:

JESSIE SPRINGER

Senior Vice President, Production Management:

MICHELLE UPTON

Senior Vice President, Production & Development:

JANET HAN VISSERING

Executive Vice President, Global Factual:

TOM MCDONALD