SharkCam's 5th Deploy
Posted on: January 3rd, 2019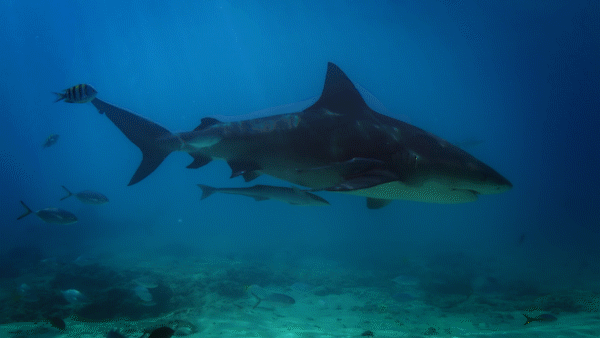 Last summer the Big Wave team headed to Bimini Island, in the Bahamas, for the robot sub SharkCam's 5th deploy. Here, Greg Skomal from the Massachusetts Marine Fisheries and Amy Kukulya and Roger Stokey from the Woods Hole Oceanographic Institution (WHOI) teamed up with the Bimini Shark Lab & Tristan Guttridge for more extraordinary shark revelations.
Big Wave director Nick Stringer had hoped to tag 3 species of shark but a mix of bad weather and challenging tagging laid low to the best of plans and we ended up focusing solely on bulls.
Prior to Bimini we'd only been able to track huge white sharks up to 20 feet. Now, thanks to WHOI engineer, Amy Kukulya's pioneering work miniaturizing SharkCam's tag, Greg was finally able to track much smaller sharks. 8 foot bull shark 'Hudson', named after our charismatic & much loved paramedic Mike 'Hudson', led us on a record breaking 17 hour track. Our longest track prior to this was just six and a half hours on the tail of a white shark off the island of Guadalupe in the Pacific!
Bull shark 'Hudson' led SharkCam up and down the coast of north and south Bimini, taking us on a remarkable journey over sand beds, coral reef, drop offs and grass beds, showing how bulls are just at home in the deep as well as extremely shallow water.
We're so proud to have initiated the SharkCam project back in 2012 that enabled the WHOI team to modify the Remus AUV (autonomous underwater vehicle) to track and follow a moving target. 5 deploys later, every mission has made ground breaking discoveries and been written up in numerous papers. But above all, an especially big thank you to Discovery Shark Week for believing in our ideas and providing more than a million dollars of funding to WHOI, over 5 deploys so far, to make SharkCam a reality.
As shark legend 'Doc Gruber' from the Bimini Shark Lab so aptly said "This is history."
Check these links out:
Shark Cam Provides Viral Video, 'groundbreaking' Information
Oceanographic Systems Laboratory: Sharkcam
Atlantic White Shark Conservancy: Research