Turtle Song Feature
Posted on: June 1st, 2007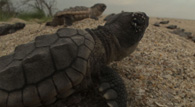 Feature documentary following the magical 20 year journey of a loggerhead turtle.
In an exciting coproduction, Big Wave has teamed up with feature producers Mike Downey and Sam Taylor of FAME to make the 80 minute 'Turtle Song' feature.   The film is directed by Nick Stringer who brings a wealth of talent to the production, the film is exec produced by Sarah Cunliffe and Zorana Piggott.  Co-production partners areTradewind Pictures in Germany and Allegro Films in Austria.  The film is distributed by Sola Media.
Nick Stringer is now on location filming in Florida for the first of six ambitious underwater shoots.  The first in Boca Raton in Florida marks the start of the loggerhead turtle's incredible, 20-year voyage.  It also marks the start of a remarkable journey for our production team.  Over the next year they will follow the turtle's migration from Florida, north to Newfoundland and the Arctic before travelling south to the Azores and finally back to the Caribbean and her birthplace in Florida.   
"We have two of the worlds top underwater cameramen, Rory McGuinness and Rick Rosenthal onboard " says Stringer.   "They are both formidable talents, and together we 're pushing the boundaries of marine photography .  We've already got 'unique' footage of tuna bait-balls filmed by Rick Rosenthal in the Azores.  He's been filming in the oceans for more than 30 years and described it as fabulous.  In Florida Rory McGuiness has filmed dramatic scenes of hatchlings leaving the beaches".
"We've got high hopes for this production.  'The Turtle Song' is a remarkable true story and the fusion of Big Wave and FAME's talents should make for a very exciting end product" says Cunliffe.
'The Turtle Song' delivers in September 2008.