Turtles Screens at Environmental Film Festival
Posted on: March 17th, 2010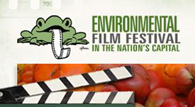 The Washington DC Environmental Film Festival screening of Turtle: The Incredible Journey will be introduced by underwater photographer Nick Caloyianis and discussion with Mr. Caloyianis and Leah Neal, Aquarist, National Aquarium will follow the film.
The screening will take place at the AFI Silver Theatre and Cultural Centre, 8633 Colesville Road, Silver Spring, Md on the 21st March at 3:00pm.

For more information on the screening and the festival please visit Environmental Film Festival.