UPDATED! German Win for Mantas
Posted on: August 23rd, 2010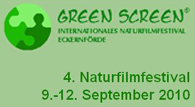 We are now very happy to announce that Mantas has won the Best Marine Film Award at this years Green Screen festival in Germany. The competition was of a very high standard so congratulations to Mark Woodward and all the team of Andrea: Queen of Mantas.
The Küstennebel- Filmpreis award is kindly sponsored by Waldemar Behn Gmbh so thank you to them for organising the award.
______________________________________________________________
Orignal News Item:
We are very happy to announce the Andrea: Queen of Mantas has been nominated for the Best Marine Award at this years Green Screen festival in Germany.
In it's 4th year, the international festival of Green Screen will take place at Eckernförde, the idyllic Schleswig Holstein town by the Baltic Sea. From 9th – 12th September, 2010 a large selection of wildlife films will be shown – competitive, classics and thematic short films. The gala opening and award ceremony events will take place in the Stadthalle, Eckernförde.
The screening of Mantas will be Friday 10th september 2010 at 8 p.m. at the Ostsee-Info-Center (OIC) and the awards ceremony will take place on Saturday 11th September.
Good luck to all those who were involved in the making of Andrea: Queen of Mantas.
For more information about Green Screen
For more information about Andrea: Queen of Mantas